RAFIX 22 FS+, keylock switch, round collar, frontring slate gray, 1 x 40°, momentary contact function, key removal position 0
Article number:
1.30.255.001/0700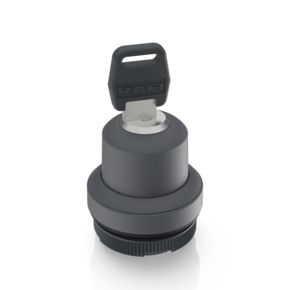 Technical data
Disassembly possible
no
Scope of delivery
2 keys
Front ring color
slate gray
Collar shape
round
Operating temperature, min.
-25 °C
Operating temperature, max.
70 °C
Storage temperature, min.
-40 °C
Storage temperature, max.
80 °C
illuminated
No
Packaging
Box
Packaging unit
2 pcs.
net weight
20.6 g
Operating life
300,000 cycles
B10
390,000 cycles
Degree of protection, front side, according to DIN EN 60529
IP65
UL Enclosure Type Rating front side
type 1
type 4X
Environment resistance
IEC 60068-2-14
IEC 60068-2-30
IEC 60068-2-33
IEC 60068-2-78
Salt-spray resistance according to standard
IEC 60068-2-11
MOQ order
20 pcs.
RoHS compliant
Yes
REACH compliant
Yes
Outside dimension, length
29.8 mm
Outside dimension, width
29.8 mm
Mounting hole
22.3 mm
Mounting depth
9.2 mm
Installation height
44.1 mm
Grid, min.
30 x 30 mm
Collar dimension
ø 29,8 mm
Actuation function
momentary contact function
Operating torque, max.
1.3 Nm
Locking position
1
Key removal position
0
Rotating angle
1 x 40°
Fixing
Threaded ring
Threaded ring torque, max.
1.2 Nm
Drawings
Description
RAFIX control devices are defined at RAFI as modular elements, consisting of an actuating element, if necessary a coupling and an individual contact or lighting unit.
Actuating elements (such as pushbuttons, emergency stop actuators, etc.) have the intended tactility, reset and function only when assembled with the appropriate switching elements.
The locking systems we use have been created by reputable lock manufacturers in accordance with the DIN EN 1303 standard. They are open, mechanical systems that require occasional maintenance by the operator depending on the ambient conditions.
Further locking positions or functions are available on request.

Main areas of application
Measurement-control-regulation
Electrical engineering
Mechanical and system engineering
Vehicle construction
Handheld terminals
Industrial robots
Special features
Key switch standard
Low installation depth 9.2 mm (PCB) or 27 mm (QC)
Connection types: printed circuit board connection (PCB) or plug-in connection (QC)
PCB switching elements minimize mounting errors
Switching elements with silver contacts (max. 250 V/4 A) or gold contacts (max. 35 V/100 mA)
Design adaptation through different front ring variations
Degree of protection: IP 65 at the front
Two collar shapes: round and square
3D viewer
Downloads