RAFIX 22 QR, switching element, screw terminal, gold, with coupling, for BA9s, 2 NO
Article number:
1.20.124.130/0000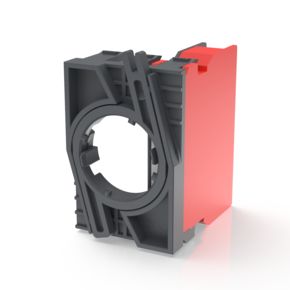 Technical data
Color
light gray
Operating temperature, min.
-25 °C
Operating temperature, max.
70 °C
Storage temperature, min.
-40 °C
Storage temperature, max.
80 °C
illuminated
Yes
Lamp socket
BA9s
Packaging unit
5 pcs.
net weight
19.8 g
Operating life electrical
1.000.000 (10mA / 24V DC) cycles
B10 electrical
1.300.000 (10mA / 24V DC) cycles
Environment resistance
IEC 60068-2-14
IEC 60068-2-30
IEC 60068-2-33
IEC 60068-2-78
Shock resistance according to standard IEC 60068-2-27
15 g at 11 ms amplitude semi-sinusoidal
Vibration-resistance according to standard IEC 60068-2-6
5 g at 10 - 500 Hz
MOQ order
100 pcs.
RoHS compliant
Yes
REACH compliant
Yes
Outside dimension, length
49.9 mm
Outside dimension, width
39.5 mm
Outside dimension, height
30 mm
Mounting depth
56.4 mm
Operating force, max.
100 N
Contact function
2 NO
Contact system
Bridge contact
Contact material
Gold
Fixing
Latching
Terminal on the rear
Screw terminal
Connection marking
Lamp: X1 (+), X2 (GND)
Abisolierlänge
8 mm
Wire end sleeve required
Ja
Rated voltage, min.
0.02 V
Rated voltage, max.
35 V
Voltage type
AC / DC
Rated operating voltage
0.02-35 V
Rated current, min.
0.00001 A
Rated current, max.
0.1 A
Rated power, max.
1 W
Power loss
0 W
Maximum connection cross section
1.5 mm²
Minimum connection cross section
0.25 mm²
Drawings
Description
RAFIX control units are modular units consisting of several parts. In the RAFIX 22 QR family, they always consist of an actuating element, coupling, and switching element, or of a light attachment, coupling, and lamp socket. For assembly, the switching elements and lamp holders are first snapped into the coupling. Then this unit is snapped onto the actuating element or the signal lamp. To release, a bayonet lever must be actuated.
For illuminable actuators and indicator lights, please use a lamp socket / LED element as the middle element in the coupling.
Switching elements marked in different colors prevent confusion in the bearing and when connecting:
1/2 NC contacts = 1/2 red side cover
1/2 normally open contacts = 1/2 green side covers
1 NC and 1 NO contact = 1 red and 1 green side cover
Silver contacts = housing base color black
Gold contacts = housing base color gray
Lamp socket and LED element = completely black
The connections belonging to a pair of contacts are marked in color on the connection side and provided with contact identification numbers: 1-2 = NC contact, 3-4 = NO contact

Sicheres Schalten von Kleinströmen durch oxidationsfreie Goldkontakte (max. 35 V / 0,25 A)
Lieferumfang; 1 Schaltelement mit 2 Schließer-Kontakten, 1 Lampenfassung BA 9s (2 S, 1 LaFa), eingerastet in Kupplung
Montage durch Aufrasten der Kupplung auf Betätiger
Main areas of application
Measurement-control-regulation
Electrical engineering
Mechanical and system engineering
Vehicle construction
Special features
Switching elements with screw connection
Mounting by snapping on (onto coupling) and actuator
The connections are open, wiring can start immediately
The screws are captively fixed in the terminal point
Time and material savings due to elimination of ferrules for stranded wires
Rigid wires and stranded wires can be used
Less wiring effort by inserting the cables from the rear, as no bending of the wires is necessary.
Disassembly by loosening the bayonet lever of the coupling
3D viewer
Downloads