LUMOTAST 75 IP40, illuminated pushbutton, square collar, protruding bezel, latching, 2 NC + 2 NO
Article number:
1.15.108.357/0000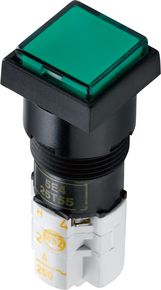 Technical data
Collar color
black
Collar shape
square
Operating temperature, min.
-25 °C
Storage temperature, min.
-40 °C
Operating temperature, max.
55 °C
Storage temperature, max.
80 °C
illuminated
Yes
Lamp socket
T4.5
Packaging
Box
Packaging unit
5 pcs.
Operating life electrical
10.000 (4A / 250V AC) cycles
50.000 ( 2A / 250V AC) cycles
B10
260,000 cycles
Degree of protection, front side, according to DIN EN 60529
IP40
Protection class
II
MOQ order
10 pcs.
RoHS compliant
Yes
REACH compliant
Yes
Mounting hole
16.2 mm
Mounting depth
57.5 mm
Installation height
7.5 mm
Outside dimension, length
18 mm
Outside dimension, width
18 mm
Actuation function
latching
Operating force, max.
6.5 N
Operating force, min.
3 N
Operating travel, max.
2.7 mm
Contact function
2 NC + 2 NO
Contact system
Bridge-snap-action contact
Contact material
Silver
Fixing
Threaded ring
Terminal on the rear
Solder terminal
Solderability
Yes
Rated voltage, min.
12.000 V
Rated voltage, max.
230 V
Rated current, min.
0.05 A
Rated current, max.
4.000 A
Drawings
Description
LUMOTAST 75 illuminated pushbuttons and signal lamps have been in use for decades. They are the most successful mono-switches in RAFI history. The wide range of collar shapes in classic design and the established terminal and legending concept make the LUMOTAST 75 series one of your most reliable components. Keylock switches compatible with the design are also available. The basic LUMOTAST 75 model complies with IP 40 protection class according to DIN.
Lens covers and diffusing discs must be ordered separately.
Main areas of application
Measurement-control-regulation
Mechanical and system engineering
Signalling systems
Special features
Mounting hole diameter 16.2 mm
3 collar shapes – also rectangular
20 different actuating and indicator elements
Keylock switch with 2 switching positions in compatible design – round and rectangular
Lamp socket: T4.5: full-surface illumination with LED is possible
Silver contacts with self-cleaning snap-action contact bridge for safe switching, suitable for large currents (max. 250 V / 4 A)
Water splash protection class IP 40 on front
available contact configurations: 1 NC +1 NO or 2 NC + 2 NO
Solder terminal
Downloads