RACON 8 ST vertical, THT, 4.8 ± 0.8 N, 1 NO
Article number:
1.14.108.606/0000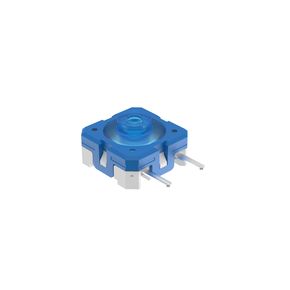 Technical data
Color
blue
Operating temperature, min.
-40 °C
Operating temperature, max.
125 °C
Storage temperature, min.
-50 °C
Storage temperature, max.
85 °C
illuminated
No
Soldering time for manual soldering, max.
5 sec
Soldering temperature for manual soldering
350 °C
Soldering temperature for wave soldering
260 °C
Soldering
Manual / wave
Solder heat resistance according to standard
DIN EN 60068-2-20
Packaging
Tube
Packaging unit
60 pcs.
net weight
0.6 g
Operating life
1,000,000 cycles
B10
1,300,000 cycles
Degree of protection, front side, according to ISO 20653
IP67 (IP6K7)
Degree of protection on rear side acc. to ISO 20653
IP67 (IP6K7)
MSL Moisture Sensitivity Level
1
Corrosive gas testing according to standard
Yes
MOQ order
1,020 pcs.
RoHS compliant
Yes
REACH compliant
Yes
Outside dimension, length
8.4 mm
Outside dimension, width
8.4 mm
Installation height
4.95 ± 0.1 mm
Grid, min.
8.9 x 12.7 mm
Actuation function
momentary contact function
Operating force, max.
8 N
Operating force, min.
4.8 ± 0.8 N
Switching travel
0.42 ± 0.15 mm
Bounce time at 10 mm/s
<5 ms
Contact function
1 NO
Contact system
Snap-action contact
SPST - Single Pole Single Throw
Contact material
Gold
Solderability
Yes
Terminal on the rear
THT
Rated voltage, min.
0.02 V
Rated voltage, max.
35 V
Rated current, min.
0.00001 A
Rated current, max.
0.1 A
Rated power, max.
1 W
Drawings
Description
Our top-quality RACON 8 tactile switches – in dimensions 8.4 x 8.4 mm – feature an unmistakeable click, high switching reliability, and a sealed contact system. That has made RACON the standard in many industries. Whether for automotive applications, systems with keycaps, or membrane keyboards, RACON impresses in the THT or SMT versions – for your application too.
RACON 8 tactile switches can be arranged individually, in rows or as key blocks. When used beneath membrane overlays, the RACON key switches should be combined with plungers. Suitable for the most important soldering techniques.
Soldering bath for THT versions  
Reflow soldering for SMT versions  
Vapor phase soldering for SMT versions  
Manual soldering
Processing of the SMT designs with SMT automatic assembly machines
IMDS entry
For vertical use, a support, for example by using a RAFI vertical adapter, is necessary.
Main areas of application
Measurement-control-regulation
Mechanical and system engineering
Automotive
Electro-medical
Special features
Gold contacts, reliable switching with low currents
Special tactile feedback
Different operating forces
Variable overall heights due to plunger
Terminal technology: SMT or THT
Traceability through product identification
3D viewer
Downloads